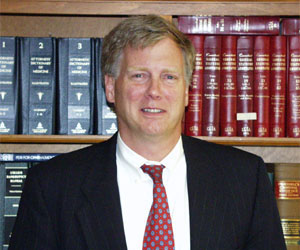 Date of Birth:
August 29, 1953.
Undergraduate:
St. Michael's College, B.A. Cum Laude 1975.
Law:
Western New England College, J.D. 1979.
Admitted to Bar:
1979, Connecticut;
1980, U.S. District Court, District of Connecticut;
1989, U.S. Court of Appeals, 2nd Circuit.
Areas of Practice:
Civil Trials in all Courts; Products Liability; Premises Liability; Insurance; Arbitration; Automobile and Trucking Litigation.
Certifications:
"AV" by Martindale Hubbell where "A" signifies the highest level of legal ability while "V" denotes very high adherence to the professional standards of conduct, ethics, reliability and diligence.

Certified by the National Board of Trial Advocacy as a Civil Trial Advocate since 1990.

Nominated by his peers and selected as a Connecticut Super Lawyer in Civil Litigation Defense since 2006.



online at

For additional information on the Super Lawyers nomination please go to https://www.superlawyers.com/connecticut/selection_details.html.